April 11, 2016
3 communities recognized for wellness programming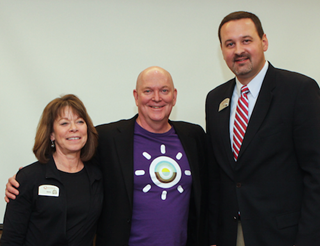 Fran Werner, left, and Nate Weyland of Querencia at Barton Creek flank Steve Sarns of NuStep.
NuStep recently announced the 2016 senior community winners of its Pinnacle Awards, which recognize organizations that support healthy aging through whole-person wellness programming.
Querencia at Barton Creek, Austin, TX, was the Gold-level senior living community winner. A Masterpiece Living Centers for Successful Aging-certified community, Querencia residents participate in a scientific research-based wellness program designed to help people age successfully, with measurable and personalized goals addressing all aspects of health — physical, intellectual, social and spiritual.
"Being able to share this award with our residents is such a joy," said Fran Werner, wellness manager for Querencia. "We are thrilled to receive this huge honor, and we will continue to look for ways to enhance the residents' wellness experiences each and every day."
As a Gold-level winner, Querencia received a NuStep recumbent cross trainer. It was presented at a reception during which Steve Sarns, vice president of sales and marketing for NuStep, showed a video about Querencia's achievements. "It's clear that wellness is not only enmeshed in Querencia's culture, it's at the forefront of all they do," Sarns said. "Their focus on creating purposeful wellness programming is ensuring that residents have the tools and support to remain active and engaged in life."
Nate Weyand, executive director of Querencia at Barton Creek, said, "I couldn't be more proud of this achievement for our community. The staff and our residents are truly dedicated to wellness, and that was apparent when the judges visited. Whole-person wellness is a full-time job, and winning a Pinnacle Award validates our ongoing commitment to a healthy lifestyle."
Brookhaven at Lexington, in Lexington, MA, was this year's Silver-level senior living community winner, and Spanish Cove Retirement Village, in Yukon, OK, was the Bronze-level senior living community winner.