September 17, 2015
CCRC offers Assisted Living Art Program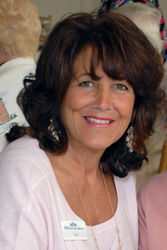 Valeri Williams
The continuing care retirement community Village at Proprietors Green in Marshfield, MA, has a new Assisted Living Art Program that features the work of resident artists. Works are displayed in the country kitchen.
"The residents who participate are discovering talents they never knew they had. Their paintings are amazing," says Valeri Williams, resident services director for the community, which offers independent living, assisted living and memory care.
The gallery currently features more than 50 original pieces, ranging from landscapes to seascapes, nature scenes to a range of still life paintings, The group of artists meets every Monday afternoon with Jeanne Runewicz, an artist and activity assistant at another Welch Group community, who lends her artistic experience and expertise to about a dozen participants. Williams explains.
"Each week, Jeanne brings a picture for the residents to recreate as a freehand watercolor, encouraging them to explore their artistic side and learn new skills." The class is also a good opportunity to sharpen skills such as hand/eye coordination, strategic thinking, problem-solving and creativity. Williams says, "It also builds confidence and a sense of camaraderie among the group," she adds. "They look forward to it. It brightens their day. Some of the residents get together on their own time during the week to work on their projects."
Twice a year, the Village hosts an art show that brings residents, families and friends together to admire the artwork while enjoying wine, cheese and, most importantly, each other's company.
Runewicz offers an art class for residents of the community's memory care neighborhood as well.
Village at Proprietors Green is managed by Welch Healthcare and Retirement Group.