March 28, 2017
People in the news, March 28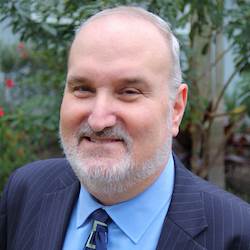 Jay Solomon
Jay Solomon named CEO of Aviva: A Campus for Senior Life
Jay Solomon has been named CEO of Aviva: A Campus for Senior Life, Sarasota, FL. The rental campus includes independent living, assisted living, memory care, skilled nursing and rehabilitation.
"Jay joins us as we begin our 2017 expansion and program enhancements, after just completing a $1.4 renovation program," said Randy Mallitz, Aviva's operating board president.
Solomon, a 30-year veteran in the nonprofit senior living industry, comes to Aviva from CentraState Healthcare System in Freehold, NJ, where he had worked since 2001. He had been chief administrator of the system's Manor Health and Rehabilitation Center since 2013.
The new CEO also has served as administrator of four other facilities in New Jersey. Among these positions, he was CEO of Daughters of Miriam in Clifton, which included skilled nursing, adult day care, independent living and Meals on Wheels.
Solomon earned his administrator license at age 21. He holds a Master of Public Administration degree from Long Island University and an undergraduate degree in health education from Glassboro State College, now Rowan University.
When Solomon and his wife moved to Sarasota, FL, they initially resided at Aviva for a short period of time so that he could understand better the needs of Aviva's 270 residents.
Darlene Ruffin-Alexander named vice president of health services at Lenbrook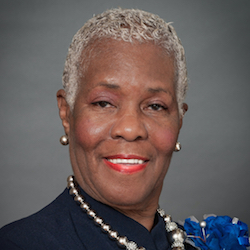 Darlene Ruffin-Alexander has been named vice president of health services for Lenbrook, a not-for-profit CARF-accredited, Medicare-certified life plan community in Atlanta.
In this position, she oversees Lenbrook's full continuum of care, which includes a walk-in health clinic, short-term rehabilitation services, personal care, memory care and Lenbrook's Medicare certified and five star-rated skilled nursing center.
Ruffin-Alexander first came to Lenbrook in 2016 as interim nursing home administrator, bringing an extensive background in clinical and operational management to the position. She began her healthcare career as a certified nursing assistant and registered nurse and continued her studies to become a licensed nursing home administrator. Over the next three decades, she has worked in virtually all areas of long-term care and operations, including staff management, clinical education, program design, policy development, compliance, regulatory affairs and quality improvement.
Ruffin-Alexander is a graduate of the University of St. Francis in Joliet, IL. She also is a member of the Institute of Excellence in Healthcare.
Denise Niemann named executive director of The Sheridan at Chesterfield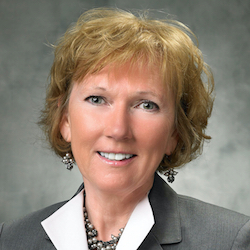 Denise Niemann has been named executive director of The Sheridan at Chesterfield, a 91-unit assisted living and memory care community under construction in Chesterfield, MO. It is one of three senior living communities being built in metropolitan St. Louis by Chicago-based Senior Lifestyle Corp.
Niemann brings to the assignment more than 15 years of experience in managing the daily operations of progressive retirement communities. She holds an undergraduate degree in humanistic studies from St. Mary's College of Notre Dame in Notre Dame, IN.
Sandy Becker of Benchmark Atrium at Drum Hill honored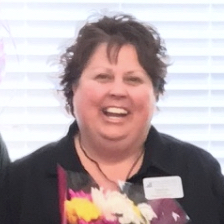 Sandy Becker, Harbor program director at Benchmark Senior Living's The Atrium at Drum Hill, North Chelmsford, MA, was honored as Eversound Champion for February by Eversound, which makes wireless group listening technology used in senior living communities.
"Eversound has been a great resource for engaging and socializing our residents in all aspects of daily programming despite their varying levels of cognitive and physical ability," said Kristen St. Jean, the community's executive director. "It's most rewarding to see an otherwise withdrawn resident come to life, actively participate and even dance when using the headphones."
E. Angela Heller wins Centers Health Care Patient Advocacy Award
The Centers Health Care family has bestowed its 2017 Centers Health Care Patient Advocacy Award on E. Angela Heller, a social worker in the oncology department at New York Presbyterian Hospital at Columbia University Medical Center.
Having worked in her position for more than three decades, Heller was one of 35 social workers nominated for the award. She will receive $2,500 plus a $2,500 check as a gift to the Pancreas Center at the hospital.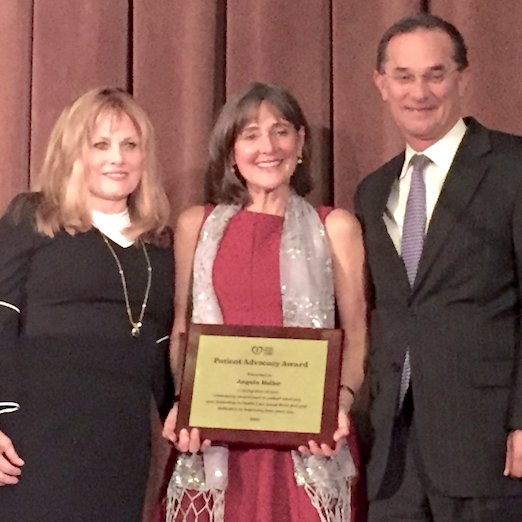 The Centers Health Care family, based in The Bronx, NY, includes two assisted living communities; more than 30 skilled nursing and rehabilitation facilities; four home care companies; seven adult day healthcare facilities; and Centers Plan for Healthy Living, the third-largest managed long-term care organization in New York state; along with its own walk-in urgent care and durable medical equipment providers. More than 12,000 staff members serve more than 5,500 long- and short-term residents throughout the Centers Health Care family.
Pictured, from left: Gloria Allon, vice president of business development, Revival Home Care, Centers Health Care; E. Angela Heller; and John A. Chabot, M.D., FACS, surgeon and executive director of the Pancreas Center at New York-Presbyterian/Columbia University Medical Center, at the first Centers Health Care Patient Advocacy Award in New York on March 23.
Send personnel news to Senior Editor Lois A. Bowers. Please include a photo.