March 16, 2017
A wee bit o' fun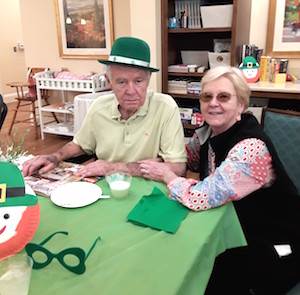 Poet's Walk San Antonio resident Jon Boyes and his wife, Faye Boyes, enjoy the celebration.
Irish folk songs filled the halls at Poet's Walk San Antonio Wednesday when Jillian Boldway performed during a pre-St. Patrick's Day celebration. Everyone wore themed necklaces and hats while enjoying Shamrock cookies, green Jell-O and lime sherbet floats. The room was decorated with lots of green and white.
Click here to see the In Focus archive and read how to submit your photos for consideration.