October 28, 2015
Score one for her!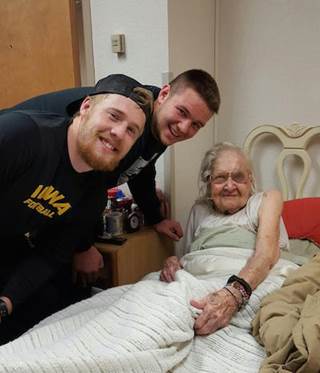 101-year-old Alice Isenhower beams with C. J. Beathard, left, and Ike Boettger of the Hawkeyes.
​Centenarian and lifelong Iowa Hawkeye football fan Alice Isenhower enjoyed a surprise visit Oct. 21 with two starting players from the as-yet-undefeated University of Iowa team.
Isenhower, 101, lives in assisted living at Western Home Communities in Cedar Falls, IA, and developed an easy rapport with Director of Spiritual Care Tim Boettger when he began his job there a little more than a year ago, according to those at the community. ​​Boettger noticed Isenhower reading Big 10 magazines and quickly realized that she knows her Hawkeye football. She recalls coaches and players from past decades, cheers for every game and keeps up on all the latest team developments.
So when Isenhower recently was in Iowa City, Boettger arranged for his son, Ike, a starting offensive lineman, to pay her a visit. She bought a Hawkeye shirt for the occasion, and Ike Boettger had team members sign it for her.
Then, during the team's bye week, Ike and his friend, quarterback C. J. Beathard, visited Cedar Falls and stopped by Isenhower's apartment—on a typical college student's schedule, at 10:45 p.m., which was fine with the night owl Isenhower.
Tim Boettger reports that Isenhower served as part coach, part trainer and part mom, peppering Beathard with questions about why he had been limping recently and where he was hurt. "You need better protection from the team," she told the quarterback.
Both Hawkeyes said they enjoyed meeting their spunky fan.
Click here to see the In Focus archive and read how to submit your photos for consideration.