January 12, 2017
What I'm telling your prospective residents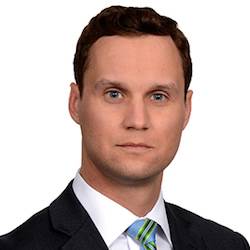 Joe Olekszyk, CFP
With the impact of "Father Time," there comes a moment when older adults realize their aging-related limitations and start making decisions about transitioning to senior living. From location to health, and from lifestyle preferences to independence level, they must consider a variety of factors when determining the best plan for themselves. Although, as you know, this decision can be difficult and often emotional for older adults and their families, selecting the right senior living option is vital to their future comfort and happiness.
Here's an inside look at what we advise our clients — your prospective residents — at our financial services firm.
Assess the location
Location, location, location. A top consideration is the distance from loved ones, friends and desired activities. Moving to a new facility can be frightening and stressful. Frequent visits from familiar faces will go a long way in easing the transition.
When they are choosing between facilities, we suggest that older adults and their families consider how easy it will be them to reach each other.
Is the facility close to major freeways? Will visiting require significant pre-planning to accommodate overnight lodging? Does the facility have on-campus housing for visiting family and friends? For those looking to transition an elderly parent into a senior living community, this latter consideration may be especially important, as visits to the new residence will affect their own day-to-day activities.
Evaluate health
Consider the degree of health and required assistance. The level of aid needed is a great determinant in the fit of a senior living option.
Although some options provide very little hands-on assistance, others may offer more intensive aid in helping with activities of daily living, such as bathing and dressing. In some cases, a full-time nursing staff is necessary.
When visiting communities, we tell clients, administrators may conduct interviews to determine whether their services meet the older adult's needs.
Gauge desired responsibilities
We also suggest that older adults consider eliminating day-to-day responsibilities, because doing so can relieve stress when they are transitioning to a new home.
We relay that some senior living options offer housekeeping services that provide light cleaning and laundry services as well as help with personal chores. Meals and transportation services sometimes are included as well.
All in all, the services and facility chosen will set the tone for their desired lifestyle.
Financing the transition
Once the older adult and his or her loved ones consider the aforementioned factors, it's time for them to think about the financial side of the transition. Budgets are essential here. I always advise my clients to adhere to a responsible budget crafted to meet their respective goals and lifestyle by determining what they can afford.
They should consider items such as fixed costs for rent, meals and activities. Does the desired community make sense for them financially? Will it put them or their loved ones in a financial bind month to month? Can an individual afford to maintain a comfortable lifestyle while financing living in the new facility, on top of other costs such as insurance and healthcare?
Unfortunately, there are many instances in which an aging parent may not have enough money saved, causing some of the financial burden to fall onto an adult child. In fact, according to a 2014 study by the Pew Research Center, 28% of folks care for their elders financially. With this in mind, I recommend that the adult child and aging parent work together to give the former the power of attorney to help make these important financial decisions.
Long-term care insurance
Although various financing and savings options exist for senior living, the most commonly recommended financing route is long-term care insurance. I highly recommend starting an LTC insurance plan as early in life as possible to get the best rates, because insurance companies consider age and health when determining rates.
I usually recommend that my clients begin their plans in their mid-50s and 60s and plan to pay for 15 years to ensure that they'll have enough saved when they need it. The average stay in an LTC facility is six years; thus, they should consider plans with six-to-seven-year windows.
Additionally, I suggest exploring LTC plans with a death benefit provision, which ensures that the individual's family gets the most money back from the premiums invested upon death. If the LTC plan wasn't used, then the provision allows heirs to retain the full amount that was invested, regardless of whether the market of the investment has dropped.
The move to senior living can be challenging. Financial advisers are able to assist older adults and their families in determining how to finance or make the transition.
Joe Olekszyk, CFP, is associate financial advisor at Rehmann, a fully integrated financial services firm.
McKnight's Senior Living welcomes marketplace columns on subjects of value to the industry. Please see our submission guidelines for more information.