December 09, 2015
98-year-old senior living resident to set record as commencement speaker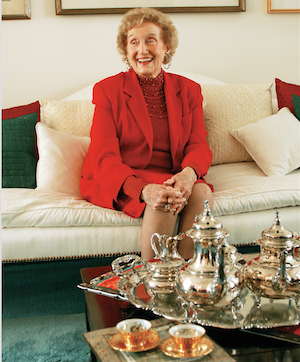 Frances Bartlett Kinne, Ph.D. (Photo courtesy of Jacksonville University)
When Frances Bartlett Kinne, Ph.D., takes this stage Saturday during Jacksonville University's commencement ceremony, she will become the oldest person to deliver a keynote address at a master's degree-level educational institution, according the university's research.
And Kinne, 98, is no stranger to the northeastern Florida university. She is its past president and chancellor emerita — in fact, the first female president of a college or university in the Sunshine State and the first female College of Fine Arts dean in the world, according to Jacksonville University.
Now an independent living resident at continuing care retirement / life plan community Fleet Landing, Atlantic Beach, FL, Kinne tells McKnight's Senior Living that she remains in excellent health, requiring no in-home or regularly visiting health aides. She has a part-time housekeeper and, although she is authorized to drive, she chooses not to do so and relies on a driver as needed. The Mayo Clinic Jacksonville tested her and found she has the reflexes of a 27-year-old and brain of a 35-year-old, Kinne says. (Adding: "OK, but what about the rest of me?")
Kinne began her Jacksonville University career in 1958 as a humanities professor and became College of Fine Arts dean in 1961. She served in that capacity until being named president of the university in 1979. Under her leadership, the institution established what is now the Davis College of Business, the School of Nursing, the Aviation program and the College of Arts and Sciences, among other units. Kinne was Jacksonville University's president for 10 years and chancellor from 1989 to 1994, when she became chancellor emerita.
Buildings on the campus and at Mayo Clinic Jacksonville, as well as at her undergraduate alma mater, Drake University, in her native Iowa, bear her name as a testament to her generosity. Kinne, however, says she is most proud of her connections with students. What will she tell them on Saturday? If the past is any indication, university officials say, she will discuss a philosophy apparent in some of her favorite quotes: "Go out and make the world a better place," and "Life isn't about me. Life is about others."
Kinne continues to counsel and inspire alumni as well as academic and corporate leaders, according to the university. She has said that one of her biggest motivations is to show others how persistence combined with their own unique makeup can lead to incredible outcomes.
"I didn't use to talk about my age — until I hit 90," Kinne says. "Now I think it's an inspiration to others to see how much can be achieved in life. I'm looking forward to speaking to the students."
Despite the record she will set on Saturday, Kinne will not be the oldest known higher education commencement ceremony speaker when all degree-granting institutions, undergraduate and graduate, are considered. Jacksonville University researchers discovered that in 2008, 99-year-old Winthrop Dolan spoke to the graduating class at Linfield College in McMinnville, OR, which grants undergraduate degrees. There's always next year.