April 19, 2017
Assisted living administrator vows cooperation as Judiciary Committee investigates social media incident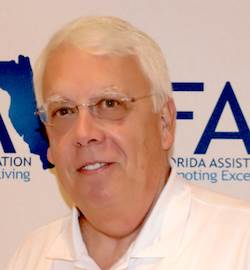 David Gery (Better Senior Living Consulting)
The administrator of a Florida memory care community has pledged complete cooperation with the Senate Judiciary Committee as it investigates an incident in which a worker allegedly secretly recorded two residents having consensual sexual relations in a private room and then posted the video to Snapchat.
"We are willing to assist the Judiciary Committee regarding any of its needs in evaluating this important matter. We would be willing to travel to Washington to help participate in any endeavors the Committee sees fit to go forward with," David G. Gery, the administrator of Bristol Court Assisted Living Facility in St. Petersburg, FL, wrote to Sen. Chuck Grassley (R-IA), chairman of the committee, April 11 in response to a March 28 request for information Grassley had sent to him. Grassley posted Gery's letter on his website on Tuesday.
Medical assistant Alexis Williams was arrested March 22 and faces one count of video voyeurism and one count of video voyeurism dissemination for the incident, which allegedly occurred Aug. 1.
Expanding on what he previously had told McKnight's Senior Living, Gery told Grassley that Williams' alleged actions were "deeply disturbing" and unexpected, given that she had undergone a state-mandated criminal history record check and was verified for hire by the Florida Agency for Health Care Administration. In addition to being interviewed before being employed, he added, Williams was trained and tested on residents' rights to privacy, HIPAA and conduct toward residents deemed inappropriate after she was hired, and she was provided with an employee handbook that contained the community's policies on social media and cellphone use.
"There was nothing in Ms. Williams' background and nothing that came out during the interview process or during the time that she was employed that would have given anybody at Bristol Court any reason to believe that she would engage in such morally reprehensible conduct," Gery said.
The facility's policy regarding the photographing and recording of residents is posted at the front door and in the employee break room, he said. "It cannot be argued that Ms. Williams was not fully educated and aware of these policies and her unilateral decision to violate them was therefore not foreseeable," the administrator wrote.
Williams was fired when an investigation confirmed that she was responsible for the recording, Gery said. Since the incident, he added, the facility has reviewed applicable policies with all employees and has provided them with copies.
The social media policy, according to information that Gery provided Grassley, instructs employees to respect the privacy of residents and others and to "use extreme caution when accessing or using any social media pertaining to the community." Workers could be disciplined or fired if they share photographs and other information in violation of the policy, it states.
The cellphone policy, explained in a document dated Dec. 10, 2010, that Gery provided Grassley, prohibits personal cellphones, audio recorders, pagers, video cameras and other electronic devices from being brought into the facility "for any circumstance." "In order to prevent unwanted or unauthorized photos, cellphone cameras may not be used by staff or visitors anywhere in the facility without the express and prior permission of the facility administrator, and then only under the supervision of a third party designated by the facility administrator," the policy states.
Grassley said he is evaluating Gery's response.
"These facilities enter into contracts and take patients' money and taxpayer dollars to protect residents from harm," he said in a statement. "They, and their employees, ought to be held accountable for falling down on the job."