July 27, 2016
Continuity of care benefits those with dementia, healthcare system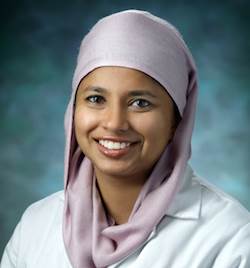 Halima Amjad, M.D., M.P.H.
Continuity of care for people who have dementia results in lower costs to the healthcare system and fewer adverse events for those with the disease, according to an analysis of Medicare claims published online Monday by JAMA Internal Medicine.
Halima Amjad, M.D., M.P.H., of the Johns Hopkins University School of Medicine in Baltimore, along with colleagues at Dartmouth, looked at 2012 data related to 1.4 million continuously enrolled, community-dwelling, fee-for-service Medicare beneficiaries aged 65 or more years who had a claims-based dementia diagnosis and had visited a healthcare provider at least four times. They assigned higher continuity scores to visit patterns in which a larger share of a person's total visits were with fewer clinicians over the 12 months.
The researchers found that lower continuity of care was associated with higher rates of hospitalization, emergency department visits, testing and healthcare spending.
Continuity of care "may be the most important — but often neglected — feature of ongoing care for patients with dementia," Eric B. Larson, M.D., M.P.H., of the Group Health Research Institute in Seattle, wrote in a related editorial.
"What patients with dementia need is care by physicians and other healthcare professionals, ideally working in well-functioning teams, who know their patients well and can provide ongoing, regular care, usually in partnership with a family member," he said. Such continuity lowers stress for those with dementia and their families, Larson added.
As the healthcare system moves to value-based payments, incentives should be included to promote continuity of care, he said.