June 26, 2016
Former senator gets 18 months for accepting $12,000 in bribes from assisted living operator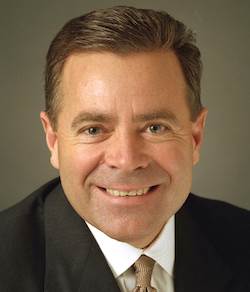 Former Oklahoma Sen. Mike Morgan in a 2003 photo
A former Oklahoma senator has been sentenced to 18 months in federal prison for accepting bribes from a senior living operator, according to the Courthouse News Service.
Mike Morgan, state Senate president pro tem from 2005 to 2006 and co-president pro tem from 2007 to 2008, was convicted of one count of bribery in 2012 and sentenced to probation in 2013. He originally had faced up to 10 years in prison, but a jury either deadlocked or acquitted him of 61 other counts, including 33 felonies.
A circuit court threw out Morgan's sentence in 2015. Although he maintains his innocence, Morgan stopped appealing "to get this chapter of his life behind him," according to his sentencing memo.
Morgan accepted $12,000 in payments from Silver Oak Senior Living in exchange for legislative favors, according to prosecutors. The payments were disguised as legal fees, they said; Morgan was an attorney.
"Evidence showed that Silver Oak had been at odds with the Oklahoma Department of Health, which was attempting to impose regulations on assisted living facilities," prosecutors said in a statement reported by the Courthouse News Service. "In exchange for the bribe payments, evidence showed that Morgan authored Senate Bill 738, which became law after modification at the end of the 2007 session and helped Silver Oak by lifting some of its regulatory burdens."