August 18, 2016
National provider survey underway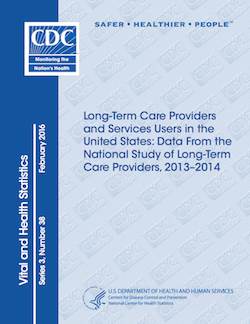 The National Center for Health Statistics is now conducting the third wave of its National Study of Long-Term Care Providers. Data will be shared in reports similar to this one.
Through February, assisted living and other residential care and long-term care providers may be contacted to participate in the third wave of the National Study of Long-Term Care Providers conducted by the National Center for Health Statistics of the Centers for Disease Control and Prevention.
The center began contacting providers this month. Participation, which is voluntary, includes answering questions about provider characteristics, services offered, staffing, and resident demographics, functional status and health. The survey is conducted via mail and online.
Policymakers, healthcare planners and providers will use the data from the biennial national study to plan for future long-term care needs.
The center publishes its findings (see information from the 2014 survey here) but does not reveal individual responses or the identity of the participants.
Click on the links under "Related Articles," below, to read about data collected from previous surveys.