October 13, 2017
Ombudsman challenges operator's post-hurricane assessment to residents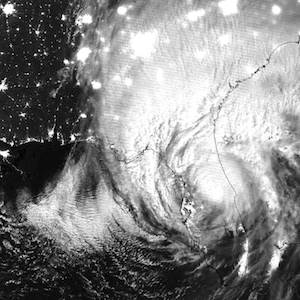 NASA-NOAA's Suomi NPP satellite captured this nighttime infrared image of Hurricane Irma on Sept. 11 at 3:21 a.m. EDT located over central Florida. (Credit: NOAA/NASA Goddard Rapid Response Team).
Harbor Retirement Associates says that the $350 extra assessment it is charging some residents in the wake of Hurricane Irma is permissible under the terms of its residency agreement. The Florida Long-Term Care Ombudsman Program, however, announced Wednesday that it is investigating after receiving complaints.
HRA operates 27 communities in eight states, including 16 in Florida. Most of them are assisted living and memory care communities and operate under the HarborChase name.
"We condemn, in the strongest terms, a surcharge placed on residents of facilities," State Ombudsman Mike Milliken said in his announcement of the investigation. "When residents enter an assisted living facility, they sign a contract stating that they will be provided with a set of standard services, including on-site staffing 24 hours a day, seven days a week, as well as meals and activities. These services must be provided rain or shine, hurricane or no hurricane. Residents should not be charged for services the facility would otherwise provide."
The Ombudsman Program said it also has notified the Florida Agency for Health Care Administration, which licenses long-term care facilities in the state.
An HRA spokeswoman told McKnight's Senior Living that the charge is needed to pay for extra costs incurred because of the hurricane.
"It is both our promise and practice to always ensure that the health, safety and well-being of our residents is our number one priority, and to take all reasonable and necessary measures to protect their lives, privacy and dignity," she said. "This severe hurricane generated extraordinary costs associated with evacuating, moving and serving our residents, all of which were above and in addition to the care, meals and services we regularly provide 24/7 to each resident. The potential for an additional monetary assessment in such an extreme case is included in our residency agreement."