December 07, 2017
Past efforts point way to future success of Medicaid LTSS reform: report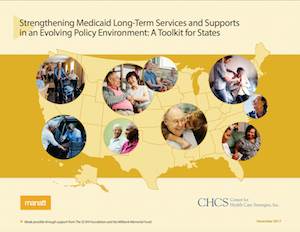 Past efforts point way to future success of Medicaid LTSS reform: report
As the population depending on Medicaid long-term services and supports grows, the experiences of several states offer lessons that providers and others can use to identify opportunities to collaborate with state Medicaid agencies on future LTSS reform efforts, according to the authors of a new report written by Manatt Health and the Center for Health Care Strategies.
Twelve million Americans use some form of LTSS, with Medicaid LTSS expenditures totaling $140 billion annually, according to the organizations. Through waivers for home- and community-based services, 15% of assisted living residents rely on Medicaid for their daily long-term care, according to the National Center for Assisted Living. Changes are needed to reduce the potential strain on the Medicaid program at the state and federal level as the aging population grows 18% by 2020, increasing demands for LTSS, the report said.
The toolkit released Thursday, supported by the SCAN Foundation and the Milbank Memorial Fund, highlights several strategies that states are using to promote greater access to HCBS; invest in programs and services that help nursing facility residents obtain care in other settings, such as assisted living communities; and expand access to HCBS for "pre-Medicaid" individuals to prevent or delay admission to nursing facilities. Case studies highlight efforts in Arizona, Massachusetts, Minnesota, New Jersey, New York, Tennessee, Texas, Vermont, Virginia and Washington.
Several commonalities exist among state reform efforts that have been successful in the past, according to the authors. Important steps, they said:
Build and sustain beneficiary engagement and buy-in, because beneficiaries are the most important allies and the heart of any LTSS program.
Invest in administrative capacity, both people and data.
Invest in federal partnerships. Know what you need from the Centers for Medicare & Medicaid Services and why, and work to get it.
Cultivate executive and legislative leadership, because these people will always be necessary for systems-level change.
Think long term. Create and drive a vision that transcends administration and policy priorities.
"Low-income adults who need and use LTSS are among the most high-need, high-cost and fast-growing populations covered by Medicaid," according to the report. "The need for states to develop strategies ensuring that individuals with LTSS needs receive high-quality, cost-effective care in the settings of their choice will continue to grow."