August 08, 2016
Senior living community makes baseball season memorable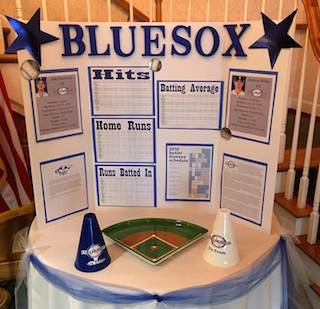 A display in the lobby of Newhaven Court at Clearview informs residents of the performance of Butler BlueSox players and fellow residents Jake Kennedy and Dalton Hoiles.
The Butler BlueSox baseball team finished its eighth season on Saturday with a 29-31 record — not especially memorable for the team's players and coaches in a traditional way. Newhaven Court at Clearview, a senior living community in Butler, PA, however, left a permanent impression on two players on the team and maybe even on the 12-team collegiate summer Prospect League of which it is a part.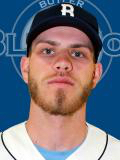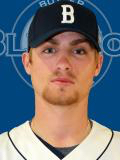 Catcher Jake Kennedy, 21 (far left), and outfielder Dalton Hoiles, 20, students and baseball players at Shippensburg University in Shippensburg, PA, about three hours away, moved into the community as part of the host family program that the wooden-bat team uses to find summer homes for their players.
"We thought a little bit out of the box," said Gary Renwick, executive director of Newhaven Court at Clearview, an IntegraCare community where residents range in age from 70 to 90. "We wanted to be part of the host family program."
The young players were treated like heroes, Renwick said. In addition to being asked to play Bingo ("It was fun. We didn't win, though. They're too good," Kennedy said.) or participate in conversations and meals with the residents, Kennedy and Hoiles, son of former Baltimore Orioles catcher Chris Hoiles, created a buzz throughout the community.
"We put a big banner in the front lobby when they came here," Renwick said. Newhaven Court also positioned a "BlueSox Leaderboard" in the front lobby of the community to provides updates on how Kennedy and Hoiles were performing statistically, and Renwick said that residents often asked him about the players.
The experience, Renwick said, took intergenerational programming "to another level."
"It's been an awesome thing," said Larry Sassone, an owner of the BlueSox who also handles marketing for the team and with his wife, Terry, coordinates the host family program. "It has to have a great effect on the residents."
Terry Sassone said she communicated regularly with Renwick and the players.
"We introduced the boys to Gary when they came into town," she said. "Oh, my goodness. There were big baskets in their apartments. There were banners welcoming the players. The boys felt so welcome."
Larry Sassone said the BlueSox might have been trailblazers and that other teams in the league might explore the possibility of having their local senior living communities host their players for a summer.
"There are 11 other teams, and we all have host family programs," he said. "When I go to the league meetings, this might be another alternative for other teams that are struggling to find host families. We could be setting a precedent for the league this year."
If so, then the Prospect League will be following in the footsteps of some teams in Major League Baseball and the American Association of Independent Professional Baseball. Two Indiana continuing care retirement / life plan communities recently hosted pitchers from the South Bend Cubs, a farm team for the Chicago Cubs, and a Kansas senior living community hosted a pitcher from the Kansas City T-Bones.