October 31, 2017
LeadingAge leaders share a plan for 'turbulent times'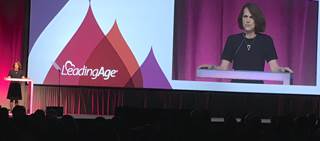 LeadingAge President and CEO Katie Smith Sloan speaks Monday at the general session of the LeadingAge Annual Meeting & Expo.
NEW ORLEANS — The past year has been one of "natural disasters and political upheaval," LeadingAge President and CEO Katie Smith Sloan told those attending Monday's general session at the LeadingAge Annual Meeting & Expo.
"Mother Nature didn't work alone as a force to be reckoned with," Sloan said after noting members who recently rose to meet the challenges associated with Hurricanes Harvey, Irma, Maria and others as well as the California wildfires. "Human nature joined her time and time again. Who could foresee the human cyclones in our midst, the ones named Chuck, Donald, Mitch, Nancy and Paul?" She was referring to Sen. Chuck Schumer (D-NY), President Donald Trump, Senate Majority Leader Mitch McConnell (R-KY) and House Speaker Paul Ryan (R-WI).
Although LeadingAge is nonpartisan, it is not apolitical, she said. "We can't be. Not in these turbulent times."
Members of the organization sent 23,000 letters, emails or phone calls to help preserve Medicaid, fund affordable housing and relieve regulatory burdens, Sloan pointed out, calling for additional advocacy.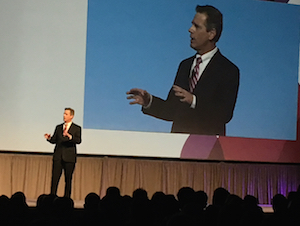 New LeadingAge Board Chairman Stephen Fleming, president and CEO of the WellSpring Group in Greensboro, NC, echoed her comments. He drew on his 15-year experience officiating Division I college football to share a game plan for the organization.
"Throughout this out-of-control hobby, I saw what separated good teams from really great teams, championship teams," Fleming said. "What made them great was not just a great defense, as you often hear, but a balanced attack, a solid defense combined with a very potent offense. For too long, we here at LeadingAge have been playing defense. Now, it's time for us to focus on offense."
Advocacy is the key to providers' long-term success, he said. He called for members to get to know their representatives in state and federal government and to invite them to tour their communities.
"It's time we collectively step off the sidelines and on the national playing field," Fleming said. "More than ever before in our nation's history, it's game day, and it's our time to change the way America ages."
The meeting began Sunday with educational sessions and an opening general session featuring a keynote speech by author, combat veteran and entrepreneur Wes Moore.
Monday featured additional educational sessions, an exhibit hall and a general session featuring a keynote by author and Harvard professor Jennifer McCrea. Dr. Ruth Westheimer (pictured) was a popular guest in the exhibit hall; as part of a LeadingAge exhibit, she gave three brief talks about older adults and sex and also signed copies of her book.
LeadingAge also presented its awards to previously announced winners at the general sessions. This year's winners:
Award of Honor: Stephen Proctor, president and CEO, Presbyterian Senior Living, Dillsburg, PA
Excellence in Not-for-Profit Leadership Award: Masonic Homes of Kentucky, Louisville, KY
Innovation Award: Saint John's on the Lake, Milwaukee, WI, for its Aged to Perfection program
Excellence in the Workplace Award: Eliza Jennings, Olmsted Township, OH
Dr. Herbert Shore Outstanding Mentor Award: Sue A. DaCamara, chief operating officer, Asbury Communities, Germantown, MD
Hobart Jackson Cultural Diversity Award: Kendal~Crosslands Communities, Kennett Square, PA
Trusted Voice Award (Organization): Tabitha, Lincoln, NE
Trusted Voice Award (Individual): James F. Seagle Jr., president, Rogerson Communities, Boston, MA
Robert Wood Johnson Foundation Award for Health Equity, presented by LeadingAge: Eaton Senior Communities, Lakewood, CO
Joan Anne McHugh Award for Leadership in Long-Term Services and Supports Nursing: Bahaa Barsoum, director of nursing, A.G. Rhodes Health & Rehab, Atlanta
To read more about the award winners, click here.
The meeting continues through Wednesday.