September 01, 2016
Exercise vital to brain health: study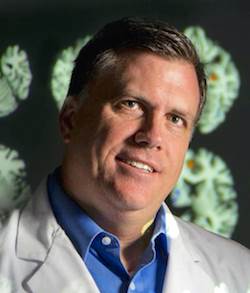 J. Carson Smith, Ph.D.
Residents who stop exercising for as little as 10 days could endanger their brain health, according to new research led by University of Maryland School of Public Health faculty members.
J. Carson Smith, Ph.D., and colleagues examined blood flow to the brain in healthy, physically fit adults aged 50 to 80 years before and after a 10-day period during which they stopped all exercise. Using brain imaging techniques, they discovered a significant decrease in blood flow to several brain regions, including the hippocampus, after the study subjects stopped regularly exercising.
"We know that the hippocampus plays an important role in learning and memory and is one of the first brain regions to shrink in people with Alzheimer's disease," said Smith, an associate professor of kinesiology and lead author of the study, which is published in Frontiers in Aging Neuroscience. "In rodents, the hippocampus responds to exercise training by increasing the growth of new blood vessels and new neurons, and in older people, exercise can help protect the hippocampus from shrinking. So, it is significant that people who stopped exercising for only 10 days showed a decrease in brain blood flow in brain regions that are important for maintaining brain health."
Blood flow to eight regions of the brain was affected by the exercise break. They including the areas of the left and right hippocampus and several regions known to be part of the brain's "default mode network" — a neural network known to deteriorate quickly with a diagnosis of Alzheimer's disease, Smith said.
The research adds to the scientific understanding of the effect of physical activity on cognitive health, he said, although participants in this particular study did not experience evident worsening of cognitive abilities when they stopped exercising.
"But the take-home message is simple," Smith said. "If you do stop exercising for 10 days, just as you will quickly lose your cardiovascular fitness, you will also experience a decrease in blood brain flow." Those who are less physically active are more likely to have cognitive problems and dementia as they age, he added.