May 03, 2016
Medication management focus of new mmLearn.org videos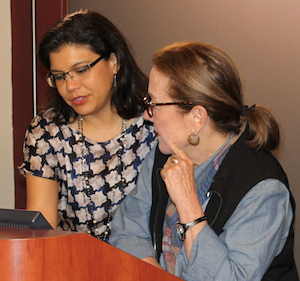 Nina Rios and Maria Wellisch of mmLearn.org prepare to record a video.
Caregivers can access new videos about medication management on nonprofit training website mmLearn.org.
"Medication errors and drug toxicity occur regularly among seniors, and it is important that caregivers are aware of the medications used by the seniors in their care," said Maria Wellisch, vice president of corporate education at mmLearn.org.
The educational content covers topics such as updated Beers Criteria, polypharmacy, potential interactions with over-the-counter medications and medication expiration dates.
"We know that for all of our users this is a very important topic, and there is a high demand for this information," said Nina Rios, executive director of mmLearn.org.
mmLearn.org said it plans to expand its medication management content in the future.